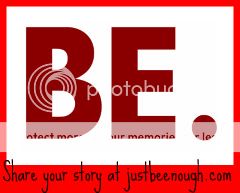 This post is in honor of my friend Elena's Be Enough 4 Me Cancer Campaign, a partnership with Bellflower Books and Cricket Answer to provide memory books to women with cancer by linking up a post about being enough.
Right now I'm struggling.
I'm desperately trying to juggle parenting a newborn with parenting a toddler, being a wife/daughter/sister/friend, working a full-time job on part-time hours, and keeping my house clean – all on broken sleep and without losing myself in the mix.
And I'm failing.
Its driving me nuts, this "season" of my life. I want my life to be "back to normal." I want to be able to tackle my to-do list instead of letting it go wildly out of control.
But I can't and I need to accept that, right now, what I can accomplish, even if its just one thing on my list, is enough.
I know I'll soon have more time for that to do list. And I know that the stuff that really matters isn't on the list anyway. I just need to give myself permission to let it all go and know that what I can do right now is enough.
What are you struggling with?